It's an old strategy: "Sell them what they want. Give them what they need." Attract your target from their perspective, deliver to them your product or service using your knowledge of their needs and how you can help.
In a negative mass advertising example this is scantily clothed women selling beer. In a positive marketing sense (where the product or service is of real value) this means that you approach the sale starting from the perspective of the buyer's desire. You then take the time to understand their needs and then supply them with the right version of your product or service.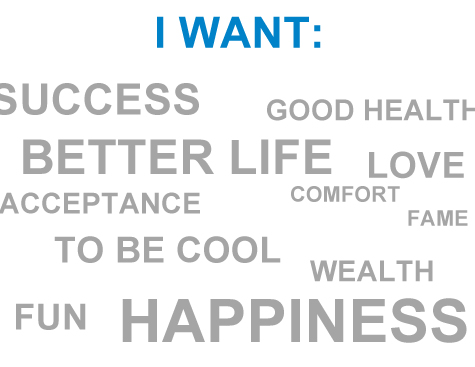 A good understanding of what motivates behavior is very helpful. Research can get you the information you need. Take, for example, the case of Unilever's Axe deodorant body spray, which has become "World's most popular male grooming brand".
Research into what motivates 18 to 24 year old male behavior revealed (surprise, surprise) that they are, for the most part, interested in attracting women. This is the basic insight.
In application this means that rather than pushing the core functional attributes of the product—like how it can keep you dry or help you smell less bad (which is your need)—the advertising and marketing campaigns and promotions focus exclusively on a nearly unproveable promise: "This product will help you get girls."
The product actually delivers on "what you need" by effectively doing its odor reduction and antiperspirant job, but it SELLS on the basis of a core motivation found among a large swath of the target group.
This construct is more broadly applicable to any consumer brand, be it an electronics manufacturer or a museum. The natural tendency is to look at how your product or service fulfills a need and to promote it based on that. This can work, a museum can appeal in its marketing to a mother's need to provide educational experiences for her children, but desire rather than need is the greater motivator of behavior.
The very nature of our commercial, consumer-driven society illustrates this point. Our lives and our homes are not filled only or even mainly with the things that we need, but rather with the things we want or thought we wanted. We don't really choose to buy the latest iPhone or visit a museum because we need to. The real motivator is desire. We want it. We want the pleasure it will deliver to our life.
The Apple brand makes you want it so badly, in fact, that you can taste it, and you are happy to pay a premium for it. Museums, theaters—any public-facing institution that delivers an experience—will do well to work from these same motivations. This is what people act on.
If you think that buying an Apple product is just too different from buying a ticket to a museum because museums provide a fundamental good in the world and consumer electronics do not, then you are seriously underestimating the role of the Apple brand in people's minds.
People believe that these products and experiences will make their lives better, and they do. This is why they pay top dollar for them, repeatedly. You want to be in the position of providing life enhancing experiences that leave customers feeling better for having acted on their desire to have them. Apple has figured out how to make this true of its products. Every public-facing institution must do the same with its.
Odds are you already deliver on what people need. The trick in museum marketing—as in any kind of consumer marketing—is to think beyond what you do or how you do it, and focus on why your target would want it. What do you have that can be the object of desire? Start the conversation with your customer at this place, with that thing.
To learn more about museum marketing click on the downloadable PDF below:
If you liked this post, you might enjoy reading Museums and Motivation (Part 1) and Mixing Motivation: Danger of Extrinsic Motivation.