Imagine that you had a simple, one-page diagram on which the most fundamental questions about your brand were clearly answered. Imagine that you had agreed upon these answers with all of your colleagues and that you used them together to guide your decision-making. Imagine that whenever you had a disagreement, you could turn to these answers for a shared foundation to resolve the argument. Imagine that this document could keep personal taste from dominating discussions about how your logo or website should look. Imagine that you knew what you should emphasize to reach your target audience. This is what a good Brand Pyramid gives you.
Here are some problems this brand strategy tutorial helps to address. Do you recognize any of these?
Are you wondering if your limited staffing and marketing budgets are being used efficiently?
Are you finding that your message isn't getting through to your audience?
Have you been asked to create a marketing campaign, but you don't know where to start?
Do you sense that your board is not aligned with your staff?
Are you in meetings that go nowhere due to a lack of consensus?
Are your values and actions clearly connected to your offer?
Do you see people in different roles setting conflicting priorities?
Have you been asked to develop a strategic plan, but you don't know where to start?
The package gives you a seven-part video series that explains each level of the Brand Pyramid in detail. With this foundation, you can take full advantage of the three hour-long consulting sessions with Tronvig Group's founder and president, James Heaton, who has taken over a hundred organizations through this process. Instead of talking about the fundamentals of our process, watching the video series first allows us to focus on your particular situation.
Want to learn more and find out if this tutorial package is right for you? We're happy to talk on the phone.
Call us at (718) 522-6326 for a free 15-minute interview.
SPECIAL MUSEUM AND NONPROFIT PRICING
Here is our special museum and nonprofit pricing, scaled based on the size of the organization's paid staff. In every case, the product offer is the same and includes the seven-part video tutorial and the three hour-long consulting sessions to make sure you get the most out of the effort:
Museums and nonprofits with 1-15 employees: $975
Museums and nonprofits with 16-25 employees: $1,475
Museums and nonprofits with 26+ employees: $1,950
Generally speaking, organizations with more than 30 employees should take advantage of our full commercial services which include workshops led in person by us, in-depth strategic consulting, customer research, and often executional creative. Our full process is described in detail here.
We feel strongly, therefore, that we are creating value for the museum and nonprofit community in a new, more accessible way with this guided brand strategy tutorial and we genuinely hope that smaller museums and nonprofits will take advantage of it.
BRAND PYRAMID WORKSHOPS
Our Brand Pyramid workshops have been helping organizations, both large and small, to think more clearly about the value they add to the world and their communities and how they interact with their visitors/guests/donors (what we call "the customer").
"We really got what we wanted and came out of the strategy sessions in a much better place. We would not have been prepared to kick off a new brand without this core foundational work."
The Brand Pyramid has been tested and retested in our workshops over the years and we have improved and refined it so we are very confident of both its soundness and practical value.
"The Brand Pyramid gave us focus on our overall marketing and branding efforts. The museum has been substantially bettered."
Until now, however, we had not found a way to get it into the hands of prospective clients who could not afford to have us build it with them through a live workshop.
Seeking a solution, we quietly launched a version of this product at the beginning of 2016. It was a do-it-yourself Brand Pyramid and it has been selling without promotion, but we sensed that some users were not taking full advantage of it. This inspired us to rework both the tutorial and the accompanying offer. We added more practical guidance and explanatory animations to the video and we broke it into seven bite-sized segments.
"I've worked for 20 years as a consultant and have worked with other consultants. From a content perspective, I can hardly recall anyone who has the same mastery of organizational development theory. Tronvig Group was able to apply this expertise to our project [using the Brand Pyramid]."
This new guided brand strategy tutorial includes a seven-part video series and three separate hour-long phone consulting sessions. These ensure that purchasers not only build a robust Brand Pyramid for their organization but that they also get feedback throughout the process, maximizing value from the Brand Pyramid once it's completed.
HOW IT WORKS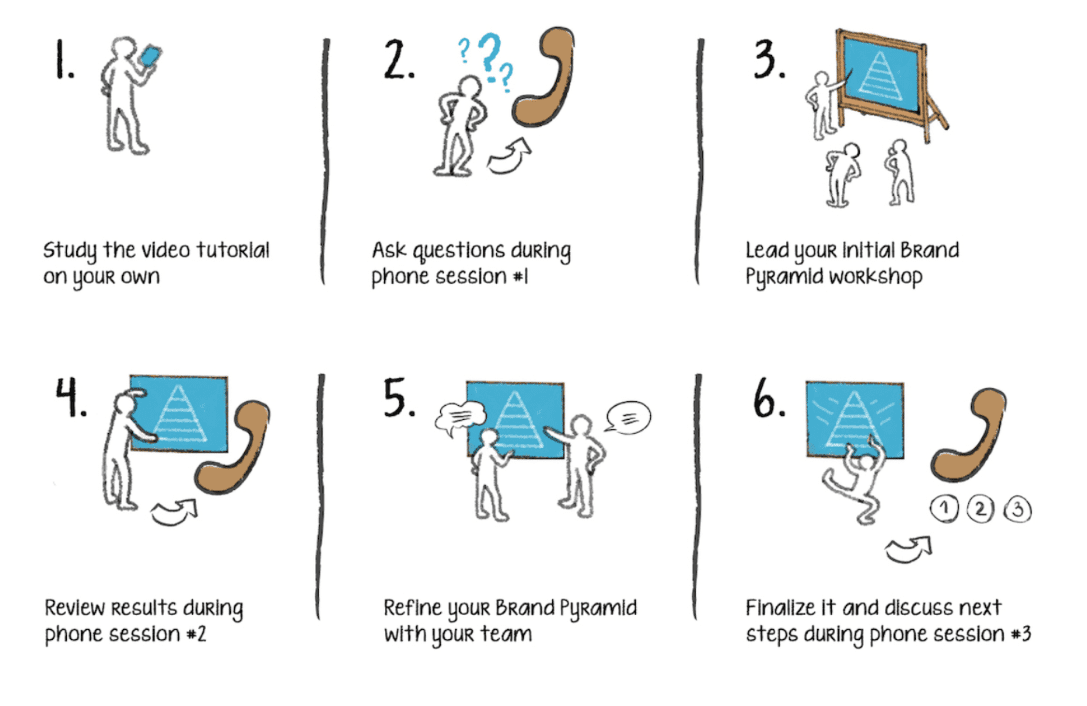 After talking with a number of institutions about their needs, we also set up a means-based pricing structure exclusive to museums and nonprofits. This is modeled after the American Alliance of Museum's graduated membership pricing. We have three price brackets that discount deeply for smaller organizations.
"I really like this product, and the way it neatly emerged from a quick labor nicely wrapped in a cute blanket … accurate and streamlined."