Tronvig Group Brand Pyramid
Brand Pyramid Test
To determine if your organization needs a Brand Pyramid, ask five to ten individuals at different levels within the organization to write down their unprompted answers to these five questions:
What business are we in?
How do we deliver value—and how do we do so differently from our competition?
Why does our core customer (client or audience) care about us?
What are our core values?
What is our Brand Idea?
If the answers you get are all consistent, you don't need one. If they are widely divergent, you do.
What is a Brand Pyramid?
A Brand Pyramid is a deceptively simple tiered analytical diagram that expresses organizational consensus on fundamental questions. We use Brand Pyramids to diagnose and subsequently strengthen the brand strategy of an organization and its products. The Tronvig Group Brand Pyramid is a variant of a the following hierarchy: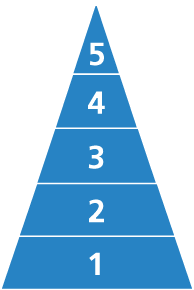 Features and attributes
Tangible benefits
Emotional benefits
Brand personality
Brand essence
We use an adjusted version of this with our own questions noted in the "test" above.
A Brand Pyramid should be used as a tool to assess products, behaviors or plans (any real or intended tactical application of an organization's brand strategy) in order to ensure that they are aligned.
The Tronvig Group Brand Pyramid
We really got what we wanted and came out of the strategy sessions in a much better place. We would not have been prepared to kick off a new brand without this core foundational work.
—Peggy Martin, Senior Director of Design and Communications, Lincoln Park Zoo
The Tronvig Group Brand Pyramid facilitates alignment, but it also incorporates an organization's overall strategic direction so that your brand strategy is linked to your organizational (or corporate) strategy. By clarifying brand questions along with larger strategic questions, the Tronvig Group Brand Pyramid can facilitate awareness and build consensus around both your brand strategy and your organization's strategic direction. This means you can more easily do what you say and thus keep your brand promise.
Why do I need a Brand Pyramid?
The Brand Pyramid gave us focus on our overall marketing and branding efforts. The museum has been substantially bettered.
—Faust Gertz, Vesterheim: National Norwegian-American Museum
The Tronvig Group Brand Pyramid frames and organizes the key elements of your brand into a single framework so that you can effectively cultivate consistency. Regardless of your size, this internal consistency and a shared understanding of your brand is essential in order to proactively cultivate how you are perceived in the marketplace. Getting your brand right internally is actually the key to getting it right out in the world.
Our Brand Pyramid is also a foundational tool in developing other essential tools for your business or organization such as your visual brand system and messaging framework. Finally, it directly supports our more advanced work such as organizational alignment and management consulting.
Can I create my own?
Yes, you can get started on your own! We have spent the last two years working on a guided brand strategy tutorial for the Tronvig Group Brand Pyramid. We have invested in this in the hope that organizations, especially smaller ones that many not be able to afford our Strategy Workshops, will still be able to take advantage of this powerful strategic tool.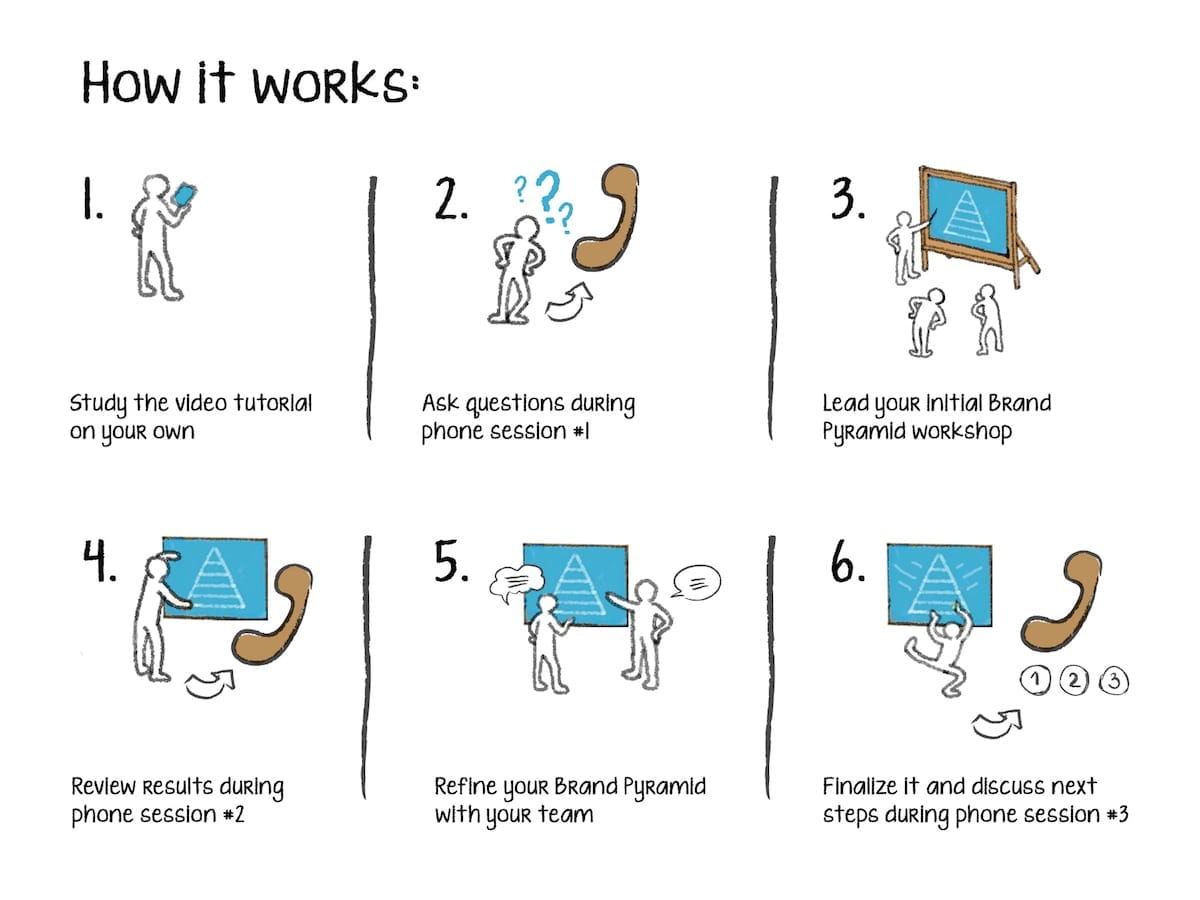 The seven-part video walk-through explains each level of the Brand Pyramid and asks the same questions we ask in our live workshops. It also features some of the stories that we tell to help you communicate the importance of a good answer to each question. With this video, you will be able to understand the Tronvig Group Brand Pyramid and know how it is built, and with the three consulting sessions that come as part of this package, you will be well on your way to being ready to build and put to use your own organizational Brand Pyramid.
I really like this product, and the way it neatly emerged from a quick labor nicely wrapped in a cute blanket … accurate and streamlined.
—Katherine Sarkis, Director, Brand Marketing and Creative, International Rescue Committee
If you are not able to bring us in to run a Brand Pyramid Workshop for you, this guided brand strategy tutorial is the next best thing. Without any wait and for a tiny fraction of the cost of an in-person workshop, you can take advantage of Tronvig Group's potent strategic tool.