History in Context: Guantánamo Public Memory Project
Guantánamo Public Memory Project, which launched last week in conjunction with the Guantánamo Public Memory traveling exhibit now on view at the Kimmel Center for University Life Windows Gallery at New York University, was originally an international design competition-cum-RFP put out in 2009 by the International Coalition of Sites of Conscience.
Collaborating with Picture Projects and Alyson Cornyn, we won that pitch (way back then) with what we thought was a pretty cool idea: a website that was essentially one big, elaborate timeline superimposed on the satellite map of the Guantánamo Bay Naval Base.
Guantánamo Public Memory Website Phase I
Phase one of this project ended with a working prototype that was used at the Remembering Guantánamo Conference in April 2011 at Columbia University. After that, the Institute for the Study of Human Rights at Columbia University became the project sponsor, and we continued to finesse the designs.
The final site is structurally simpler than what we started with, but it represents much promise.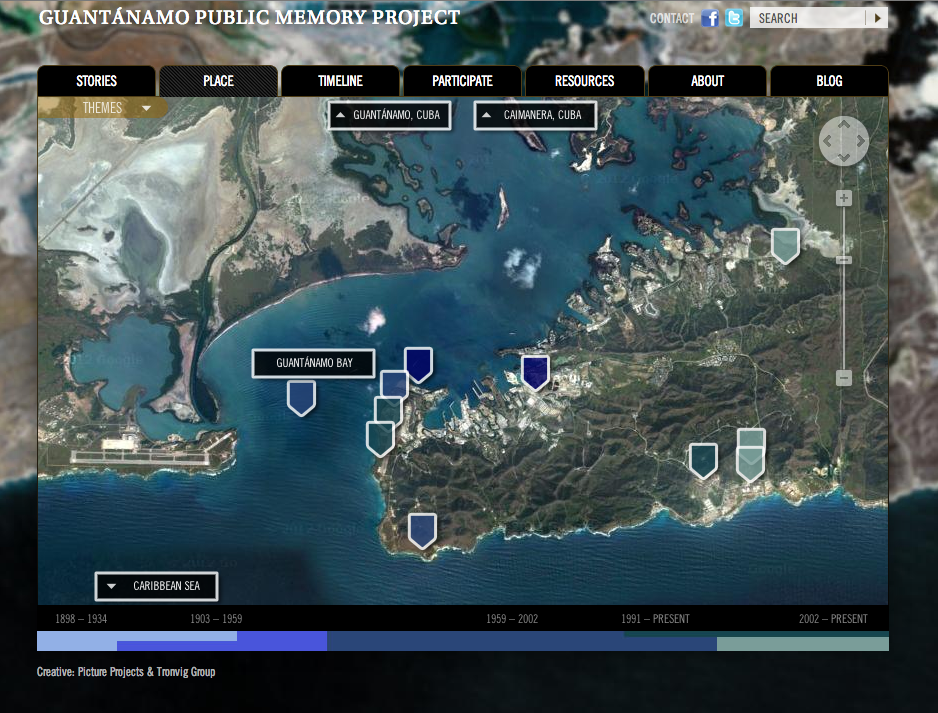 The website content has been collected and compiled by teams, first at the International Coalition, then at ISHR, and most recently by students from 14 universities. The Guantánamo Public Memory Project uses first-person accounts ("Stories"), historical context ("Timeline"), and geography ("Place") to create a rich picture of this unique place. This presentation is nuanced. It allows the user to come to the information from varying perspectives, guided by research, but most importantly, by the experiences of those who have lived, worked, and been held there as refugees or detainees.
Guantánamo Public Memory Website Phase II
Our final design presents a metaphorical window through which you can now see the Guantanamo Bay Naval Base—as a place, as a history, as a collection of real people's stories—more clearly.
The Guantánamo Public Memory Project website will hopefully also serve as the starting point for a continually expanding virtual repository and distribution point for knowledge and understanding connected to this very unique and troubling square of land and sea on a remote bay in the Caribbean.