Digital News Ventures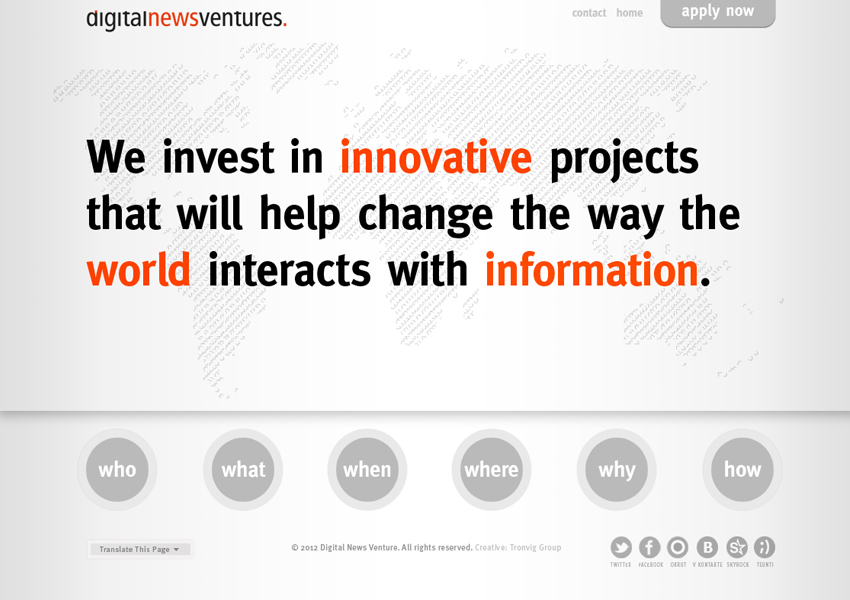 Digital News Ventures website was created by Tronvig Group for the Media Development Investment Fund, a unique global organization that is in the business of funding and assisting the healthy development of the fourth estate, particularly in those areas of the world with a history of media operation.
With Digital News Ventures, the Media Development Investment Fund has created a fund for new ventures in the digital news media space. The idea is to seed the ideas that will facilitate the health and continuity of independent journalism as news continues to shift into the digital arena.
For this project, Tronvig Group created a sub-brand and website in 5 languages. The website has served to facilitate the announcement of Digital News Ventures and to take applications for the grants being offered.
If you are a journalist or news organization operating anywhere on the planet and would like some money to get your project or idea off the ground and onto the Internet, visit this website to see if you qualify.
It should be no surprise that the website answers the questions: who, what, when, where, why, and how.
___
On a technical note, rendering the Russian within the framework proved to be the most difficult.
Read more about the Digital News Ventures project in this VentureBurn article.
If you want to learn more about the Media Development Investment Fund, we have also written about them in MDLF First 15 Years (the organization was previously known as the Media Development Loan Fund), discussing another project we did for them.