Bill Shannon Dictionary of New York Sports redirect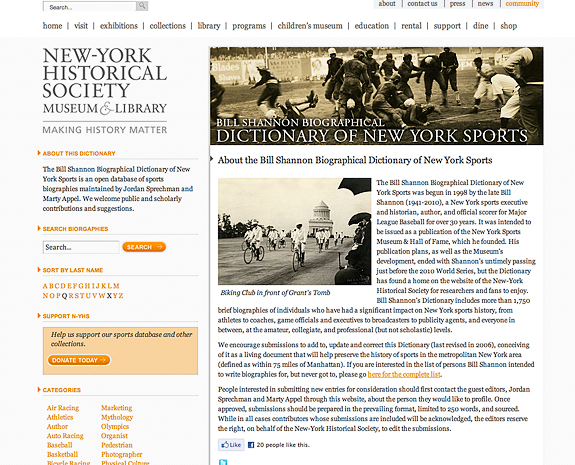 Bill Shanon Dictionary of New York Sports (New-York Historical Society) website.
Museum Marketing, Communications & Audience Engagement Glossary
The glossary is a compendium of critical but often loosely defined terms relevant to the work of museum marketing, communications, and audience engagement professionals. Each word has a brief summary of what it means, how it's used, and why it matters.
Need help?
Learn about our unique and effective process to take the first step toward clarifying, strengthening, and executing your 360 brand.
Related Posts
Culture
Last summer Tronvig Group answered a proposal request to redesign and rebuild the New-York Historical Society's institutional website. Last week it became a living, breathing entity on the web.
360 Branding
Tronvig Group created a website for the newly opened DiMenna Children's History Museum, part of the New-York Historical Society.
Museums
Marketing is a big term. What is it in the context of a public-facing institution like a museum? What is it when you do not have a large or consistent marketing budget or even a dedicated marketing department?